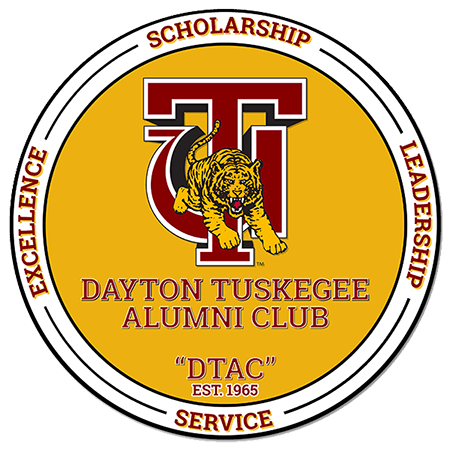 Join Us Today & Get Involved
WELCOME TO THE DAYTON TUSKEGEE ALUMNI CLUB'S OFFICIAL WEBSITE
JOIN US AS WE CONTINUE TO SUPPORT MOTHER TUSKEGEE
Fellow Alumni,
Greetings to all alumni, friends, and supporters of our prestigious Dayton Tuskegee Alumni Club (DTAC). As we embark upon another period of growth and expansion, let us again rededicate ourselves by reviewing our Purpose and Alumni Oath in the pursuit of our new goals and strategies. Although we have made tremendous strides in recruiting students to send to Tuskegee University and provide scholarships to assist in their education, there is still much more work to be done. I hope you will actively participate in the many opportunities we offer to fellowship and formulate programs to recruit new students for Tuskegee University, as well as help to fund their pursuit of higher education.
Please join us in our monthly meetings. We need your ideas to improve our Club's on-going activities in Dayton and the surrounding communities. With your support to maintain the legacy of our Tuskegee University's founding father, Booker T Washington, your ideas and recommendations are welcomed and will be met with the utmost consideration and expediency. Thank you for your continued support!
Our Purpose
The purpose of DTAC shall be to foster ideals and goals of Tuskegee University. It shall endeavor to promote, encourage, and maintain the interest of Alumni of the University and in each other, while advancing a spirit of fellowship and loyalty of its members. The DTAC shall strive to assist in the building up and maintaining a strong, effective, and serviceable National Alumni Association by affiliating with the same. The DTAC will serve the Dayton, Ohio community and surrounding areas by seeking highly qualified students to send to Tuskegee University and provide financial support while they pursue the American dream.
DTAC Annual Goals
Increase meeting attendance by 30 percent.
Recruit a minimum of 3 students each year for Mother Tuskegee.
Raise a minimum of $11,000 in support of scholarship program.
Recruit 2 young Alumni and 3 new members.
90% participation in Parade of Clubs Fund Drive.
Make greater use of social media in promoting DTAC activities and programs.
Donate $28,000.00 to TNAA Parade of Clubs Fundraising Campaign.
Award 10 scholarships to local students attending Tuskegee University.