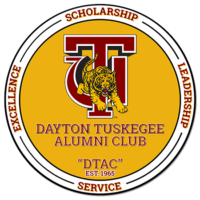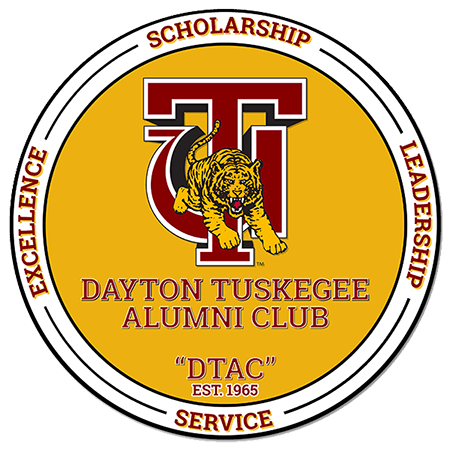 What's Happening
At
Dayton Tuskegee Alumni Club
DTAC Donated $26,831.00 to Tuskegee University during the Tuskegee National Alumni Association (TNAA) 2021 Annual Parade of Clubs Fundraising Campaign.  Donations included 24 DTAC members and 8 other fellow alumni, relatives and friends.
Tuskegee University vs Central State University Football Game will be held October 16, 2021 at Wilberforce.  DTAC plans to provide food for the Band during their visit.
DTAC has twelve Eminent Associates who each donates over $1000 annually to Tuskegee University.
DTAC donated over $3500 in scholarships to five local students attending Tuskegee University.
DTAC welcomes Dr. Michelle Corley to the area as Dean of Engineering at Central State University.
DTAC website, www.daytontuskegeealumni.org, has links to TNAA, NCR and TU websites.
DTAC Annual Picnic for cy2021 Picnic cancelled due to COVID-19.
DTAC October 24, 2021 Annual Soul Food Extravaganza has been cancelled due to COVID-19.  DTAC is pleased to announce the Soul Food Raffle list of prize winners will be held on Sunday, October 24, 2021.  Congratulations to all and Thank You For Your Support !!!
CY24 TNAA Membership Cards have been received for all DTAC dues paying members.
DTAC 2021 Annual Christmas Party has been cancelled due to COVID-19, however Christmas Party Committee is making plans for a Virtual Party.  More information to come.
DTAC supported Cincinnati Tuskegee Alumni Club's (CTAC) Inaugural 2021 Golf Tournament by providing a golf team and Hole Sponsorship.  CTAC awarded DTAC $500 for their participation and purchased many Soul Food TV/Tablet/Cash raffle tickets.
DTAC submitted TNAA & NCR dues for thirty-three members during the NCR 6/7 August 2021 Virtual Conference.  Submittal included five new members.  Membership applications are now available on DTAC website.
Nominations for Cy2022 DTAC Officers are now being solicited.  Contact Beverly King, Beverly.king@hotmail.com, for more information.
DTAC is pleased to announce that Deborah Thomas was selected as Year 2021 Outstanding Alumni at the August 6/7, 2021 NCR Virtual Conference.
Did You Know That …
Dayton Tuskegee Alumni Club
Dayton Tuskegee Alumni Club was founded April 1965 and has been in
existence fifty-six continuous years?
Tuskegee University ranks 4th among the top HBCUs?
Tuskegee University won $50,000 in the 2021 Home Depot Retool Your School Contest?
During the April 2021 Tuskegee Founder's Day Program, Reunion Classes donated over $100,000 to the University?
Tuskegee University Student Graduation Rate of 76% ranked #1 of all of the colleges and universities in the State of Alabama?
Tuskegee University May 30, 2021 Spring Commencement will award
degrees to over 1200 graduates for Years? The exercise will celebrate
degrees earned Fall 2019, Spring & Fall 2020 and Spring 2021.
Dr. Walter Hill, Dr. Clayton Yates, Dr. Jennie Patrick and DR. Legand Burge (Former TU Dean of Engineering) are listed among top 1000 Black Inspiring Scientists?
You can still review Tuskegee University, DR. Charlotte P. Morris's April 9, 2021 State of the University Address on YouTube. Also, other TU activities?
Dayton Tuskegee Alumni Club (DTAC) participated in a recent HBCU Back-To-School event in which over 75 college students attending HBCUs participated and the overall attendance of the event was over 300 participants (including students)
During the April 24, 2021 Tuskegee National Alumni Association (TNAA)
Virtual Biennial, the St. Louis Club was reactivated and the College of Arts and Sciences Professional Alumni was Chartered?
The Tuskegee University Board of Trustee is conducting a Search Committee for selecting a new President to replace retired Dr. Lily McNair?
The Tuskegee University vs Alabama State University Turkey Day Classic will return Thanksgiving 2021?
Dr. Morris stated Tuskegee University will have a Homecoming Fall 2021?
The family of Brenda Robinson has requested donations to be given to
Dayton Tuskegee Alumni Club Scholarship Fund in lieu of flowers?
Congress passed a HBCU Loan Forgiveness Bill that eliminated $159 Millions of Tuskegee University debt?
That Tuskegee University is the only HBCU that is designated a National
Historical Site?
  Little Known Black History Facts About Tuskegee University
Number #1 producer of African American Aerospace Science Engineers in the Nation.
The Top Producer of African American Ph.D. holders in Materials Science and Engineering in the United States.
Produces more African American General Officers in the military than any other institution, including the service academies.
The Largest Producer of African Americans with baccalaureate degrees in Math, Science and Engineering in Alabama.
The only Historically Black College or University with a Fully Accredited College of Veterinary Medicine that offers the Doctoral Degree and produces over 75% of the African American veterinarians in the world.
The only Historically Black College or University in the nation designated as the location for National Center for Bioethics in Research and Health Care.
The first Nursing Baccalaureate Program in Alabama and one of the oldest in the United States.
The Producer of the first African American four-star general in the United States Air Force: Gen. Daniel "Chappie" James
The Producer of the first African American winner of the National Book Award, Ralph Ellison for his book, Invisible Man.
The only college or university campus in the nation to be designated a National Historic Site by the U.S. Congress.
The only Historically Black College or University, and one of only 11 universities in the world funded and authorized by the W.K. Kellogg Foundation to establish and operate a Kellogg Hotel & Conference Center
The only Historically Black College or University to maintain Academic Excellence while supporting a football program that exceeds a 680-win career record and many conference titles including 4 consecutive SIAC Conference Football Championships.
Frederick Douglass Patterson, a visionary founded the United Negro Fund on 25 April 1944 and became president of what is now Tuskegee University.Historical Site?